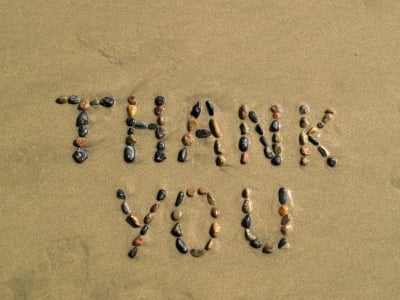 Thank you pages provide an important follow up to your landing pages. Your offer on your site's landing page was so appealing that your visitor filled in her name and email address. What's next? Optimize your thank you page so you can move your visitor further down the sales funnel. Here are four best practices for optimizing your thank you page.
Give clear instructions about how to receive the giveaway – Whether you are offering useful content, a webinar or free products, your visitor should be able to gain access to this content easily. Allow her to click a link to receive the e-book or start watching the webinar. Make sure they can get the offer immediately. An email with an attachment may take a while.
Make another offer – Your visitor has filled out her contact information and is interested. On the thank you page, make an offer for something else she might find useful: another offer or a link to your blog.
Restore navigation – On the landing page you took away navigation so the only option the visitor had was to fill out your form. Now, you should restore the navigation so the visitor can view other parts of your site.
Offer social media – Place social media icons on your thank you page to give your visitors the options to follow you on Twitter, "like" you on Facebook or folllow you on Linked In.
Your visitors have arrived at your thank you page because they are interested. Optimize your thank you page so you can deepen your relationship with them.
For inbound marketing consultants that will drive traffic to your site, capture leads, and nurture them towards sales....email Laurie@bayareainbound.com or call 510-543-7593 mbl.
To download our free whitepaper that will give you more tips and tricks, click the button below:
Read More