With Statistics like the factoids below, it is hard to believe that there are still companies out there that don't utilize a blog for marketing or that spend less on internet marketing than they do on trade shows, but I still run into them quite often. Take a gander at the facts below and figure out if you really want to ignore modern-day-internet-marketing methods.
Keep in mind that search engines search your website, and if you blog with targeted keywords with more frequency than your competitors, your website will be pulled to the top of a search right when your prospects are looking to buy your product or service.
Therefore, blogging with frequency, particularly paying attention to answering questions and the pain points of your target audience will drive prospects to your website organically.
Here are a few more facts that should convince you about the importance of blogging and SEO of your website:
SEO
61% of global Internet users research products online. (Interconnected World: Shopping and Personal Finance, 2012)
44% of online shoppers begin by using a search engine. (Interconnected World: Shopping and Personal Finance, 2012)
Worldwide, we conduct 131 billion searches per month on the web. (Comscore, January 2010)
57% of TV viewers use the web simultaneously. (Nielson, 2009)
70% of the links search users click on are organic, not paid. (Marketing Sherpa, February 2007)
60% of all organic clicks go to the top three organic search results. (MarketingSherpa, February 2007)
75% of users never scroll past the first page of search results. (MarketShareHitsLink.com, October 2010)
The average click-through rate for paid search in 2010 (worldwide) was 2%. (Convario, January 2011)
Companies that blog have 97% more inbound links. (HubSpot State of Inbound Marketing Lead Generation Report, 2010)
Businesses with websites of 401-1000 pages get 6x more leads than those with 51-100 pages. (HubSpot Lead Generation Lessons from 4,000 Businesses, 2011)
Blogging
Blogging frequency impacts customer acquisition. 92% of companies who blogged multiple times a day acquired multiple customers through their blog. (HubSpot State of Inbound Marketing, 2012)
The global population of blog readers keeps growing. (eMarketer, August 2010)
81% of marketers rated their blog as useful or better. (HubSpot State of Inbound Marketing, 2012)
There are 31% more bloggers today than there were three years ago. (eMarketer, August 2010)
46% of people read blog articles more than once a day. (HubSpot Science of Blogging 2010)
Most people read 5-10 blog articles a week. (HubSpot Science of Blogging, 2010)
Nearly 40% of US companies use blogs for marketing purposes. (eMarketer, August 2010)
I hope this article has convinced you of the importance of blogging and SEO for marketing today. And remember, it's just as important to optimize your blog for SEO as it is to blog at all. Tip: For wordpress, see the "SEO plugin for wordpress"; Or use an automated blogging tool like Hubspot for proper SEO while blogging.
-----------------------------------------------------------------------------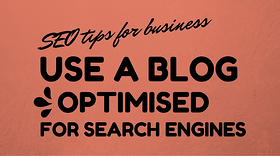 Bay Area Inbound is a full-service Inbound Marketing Agency in the SF Bay Area that specializes in campaign creation and lead generation to significantly increase revenue for technology companies.
For more information on getting traffic to your site and generating the leads you need, contact laurie@bayareainbound.com or 510-543-7593.
For more tips and tricks, download our free whitepaper by clicking the box below: