I've been using Hubspot for 5 years and am a "Success Training Graduate" for Hubspot as well. I recently went through the Marketo "Basic" Training and have been working on Marketo for 3 months.
Here is how the two most popular marketing automation software packages stack up, in my opinion, as a Demand Generation and Marketing Automation Consultant.
Marketo vs. Hubspot
Blogging and SEO
Marketo has no blogging tool. This is bad. Marketo bills itself as a "marketing email tool", but unless you really know what you are doing with a blog and SEO, you are going to take a big hit in traffic to your site with no blogging tool. A lot of companies make up for this by spending a boat-load of money on "SEO consultants". Spending $300k on a SEO consultant in one year is not uncommon for well-funded companies.
Blogging is important. It gives you something to push via social media to get the word out about your products and services and gives you brand recognition and a following by people who come to your website for information. Search Engine spiders crawl your site looking for new pages with target keywords so blogging makes your site come up to the top of an organic search when people are using google and other search engines to find you when they want you.
So at my current company, since Marketo has no blogging tool, I had to work with a Product Manager, to set up the blog, and have him put in all the fields Hubspot includes to blog properly for SEO. Took a while, and he was very talented at implementing and I knew exactly what I needed. Just saying, the no blogging tool in Marketo is a big Con.
Hubspot comes standard with a blogging tool that will get you stellar SEO. It even has a tool that ranks all your website pages for SEO and tells you what needs to be fixed.
Flexibility
Marketo promotes itself as more "flexible" than Hubspot. My current web designer complains that Marketo isn't very flexible and said sometimes he considers doing emails in all html. Personally I found Hubspot to be flexible enough. I don't need more than 20 free templates for email and I can upload whatever size and shape of CTA that I want to. Eloqua is even more flexible, but most expensive, it's smallest package is for a 10-person team, and sometimes with great flexibility comes a lot of extra work in customization, thus the minimum-10-man-team requirement.
Social Media
Again, Marketo is an email program only, they write articles that point you to use other social media tools and analytics like google, hootsuite, radian6, but they don't include any in Marketo.
Hubspot has tools that let you push all new blog posts automatically to social media. It also has a new built-in tool that scans twitter for mentions of your company so you can see what competitors, cutomers, and prospects are saying about you. They say this tool is coming soon for facebook and linkedin.
Market Share
Marketo entered the market in the enterprise-level only. It currently boasts about 4,000 customers, but a lot of them are in the Tech Enterprise sector.
Hubspot entered the market in the SOHO, Mid-Size, and Enterprise packages at once. They have more customers, at over 10,200 now, but a lot of Enterprise customers are still on Marketo and Oracle's Eloqua.
Customer Support
This is where Hubspot pulls way out in front in my opinion. They have 24/7/365 support. I've used it, on a holiday, in the middle of the night, there is always someone live to answer your call and help you if you can't find an answer online. With Marketo, you type your question into an online community and wait for someone to tell you what they think is the right answer.
Training
Training with Hubspot is awesome, you pay, get your whole team on a screen share every week, do the lessons one by one with your personal trainer and then you do homework before the next week setting up your own website and calls-to-action. forms, landing pages, offers, return screens, thank you emails, blog, social media, keyword grading tool, analytics, and more. Hubspot teaches you best practices for all of these things.
With Marketo's training, you sit in a room with 20 other people and one instructor goes over the whole enchilada with everyone for two whole days. If I didn't know what everything was before I did it, not just where it was in marketo, I am sure I would have thought it was incredibly challenging to learn what I should be doing. My coworkers told me they found it incredibly challenging, but they had no prior knowledge of marketing automation software or training in best practices from Marketo.
I believe this lack of training and support is why there are so many extremely expensive marketo consultants out there that get plenty of work.
These are my impressions now that I have been trained on and used both Hubspot and Marketo. I hope you found this analysis helpful.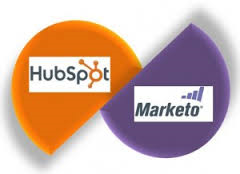 Bay Area Inbound is a full-service Inbound Marketing Agency in the SF Bay Area that specializes in campaign creation and lead generation to significantly increase revenue for technology companies.
For more information on getting traffic to your site and generating the leads you need, contact laurie@bayareainbound.com or 510-543-7593.
For a Free Marketing Assessment and Recommendations: