Recently I was working with Gartner Research Analysts for a tech client. One of the Gartner Analysts came in and told us that we need to broaden the client's product to include everything that the larger companies provide in their offerings if we want to be placed any where other than the "Niche" space which is bottom left of the Magic Quadrant.
For those of you unfamiliar with the Magic Quadrant, it is a positioning graph that Gartner uses to let the market know how it perceives the offerings of a given tech client. The four quadrants are: Bottom left, "Niche", Bottom right, "Visionaries", top left, "Challengers", and top right, which is the desired quadrant, is called the market "Leaders".
Niche means you play a role in a specific slice of the market identified, but aren't covering the general market space. Challengers are typically big companies with a lot of resources, they often buy companies to cover all their bases but seldom assimilate them well. Visionaries are innovators, they create new "disruptive" technologies that change the way people do things and most of the market goes in the direction of the new solution. Leaders mean they dominate the market space with their offerings and have the lion's share of the market on a pie chart.
So getting back to my story, the Analyst came in and told us we need to broaden our offerings. But the client's tools are purpose-built, they install in hours to days not 9 months like the competitors'; They solve real IT problems and they do it quickly; Customers typically achieve ROI in several months not 2 years like the competitors solutions. Companies tell us they don't like the competitive solutions because they claim they can do it all, but do none of them do anything well. And they say the competitors solutions are like pipes and plumbing cement (building materials), and require "heavy lifting" to get them up and going over many months of concerted effort. With the competitor's offerings the companies typically end up building out only 20 to 30% of the functionality they need, so they end up buying my client's product anyway.
The Analyst told my client they need to charge more for their offerings because positioning on the MQ is based on revenue. But one of my client's competitive advantages is it's low capex and quick ROI.
The Analyst told my client they can't be well-positioned on the Magic Quadrant because we can't do everything on a list of check boxes the competitors do. And they won't build another Magic Quadrant because my client would be alone there. Even though my client's offerings are what is relevant to the market. Isn't segmenting until you are the market leader the basis of Marketing 101?
To build a MQ an Analyst has to own it and maintain it forever through months of research every year, so it isn't in the Analyst's best interest to create a new MQ, rather to lump my client onto a broad MQ that already exists.
My client has a long list 500+ of Fortune 1000 customers, International Giants, and the Office of the President, the Pentagon and every Branch of the Military. They have had many of these customers for 10 years but signed up over 70 new medium and large customers this year. They have increased sales by 50% year-over-year and things are actually accelerating this year due to their solid sales team and if I may assert in a humble way, their strong marketing team (aka me), ha!
So I ask you, does this Magic Quadrant thing always benefit the market? Adding everything and the kitchen sink and charging a customer to pay for it all when they don't need it. Is that really what it takes to make you a market leader? I grant you it works in many cases, but not always.
I do think finding out what direction the market is going, which standards seem to be gaining momentum to get your Research and Development efforts going in the right direction is a big service that Gartner provides. They talk to all the people at companies in your space, so they hear what many companies are looking at. And this provides a huge value to the market for uniformity in connectors, API's, open standards and reducing the Cost-of-Goods sold (COGS) due to promotion of universal connectivity choices by the market.
There is a good book on this subject called "Up and to the Right" that outlines the ins and outs of managing the Gartner relationship from an insider who worked for Gartner for years.
What do you think about the Magic Quadrant? Have you had experience with Gartner? Have you ever encountered a situation where it didn't seem to make sense?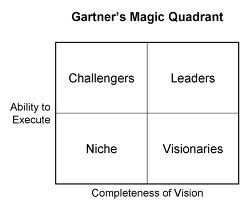 Bay Area Inbound is a full-service Inbound Marketing Agency in SF that specializes in content creation and getting you the leads you need to significantly increase company revenue.
Bay Area Inbound is a Hubspot Value-Added Reseller. Hubspot makes Integrated Inbound Marketing Software and is the #2 Fastest Growing Software Company in the World.
For more information on getting traffic to your site and generating the leads you need, contact laurie@bayareainbound.com or 510-543-7593

.
For more tips and tricks, download our free whitepaper by pressing the box below: