First saw the new Microsoft Surface RT, Microsoft's new tablet computer, six weeks ago at work, the week Microsoft launched the product. And I've been trying to get this article written for a while. I've read a lot of blog articles, talked to a lot of people, and played with it a few times. I've decided it's a game changer and here I tell you why. First I give you a scorecard comparing Surface RT to Apple's ipad4, then I finish with the game-changing analysis.
I believe anyone who goes to a lot of meetings, travels to clients, to classes, or to events with your kids where you still want to get some work done, really wants a tablet that functions as a laptop or ultra notebook. We just want the lighter, more nimble form factor.

For anyone not into tech gadgets, Surface RT is Microsoft's new tablet computer in answer to Apple's ipad that has been killing Windows-based notebook sales for the last few years. So what is so new and cool about it? Here's how my score card adds up:

Hardware Functionality, Microsoft=1, Apple=1

Surface RT has a cover that doubles as a keyboard and it snaps into place from about an inch away and a kickstand that props it up making it into a laptop with the keyboard cover. Ok, you can buy a keypad cover for your ipad now, for ~$129 at Fry's Electronics, so that's not new.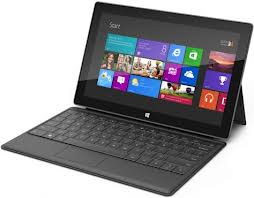 What's a snap really worth anyway? It was featured heavily in the microsoft launch commercials, but I can't really give a lot of weight to a snap. There are a lot of covers out there that make ipads stand up in the same way. While the soft touch keyboard cover and kickstand are appealing, they don't outweigh cellular capabilities in the ipad, so I'll give Microsoft and Apple both a point. I prefer the Type Cover with keys instead for heavy typing, available for both ipad and Surface RT.

Ease-of-Use, Microsoft=0, Apple=1

Surface RT features the RT version of Windows 8. Unfortunately, you need an animated user's guide from Microsoft to learn the functionality of the new operating system. Reportedly, it's so hard to use that retailers like Best-Buy are working in conjunction with Microsoft to make mini-guides that show the functionality of the Charms Cafe and Corners features for in-store browsers. In contrast, ipads, like iphones, have amazing ease-of-use so you can jump on and use them with no guide. To me, that's worth a lot. So here I must score one for ipad, zero for Surface RT.

Autosync with Majority of Market Business Software, Microsoft=1, Apple=0

Windows-based machines still dominate the business market, so interoperability is a huge potential bonus with the Surface RT. Autosyncing with your Outlook email and calendar as well as all your business software would be awesome, it doesn't work out of the box right now though.
I have a friend who says he got his Windows RT Surface tablet connected to his network shared drive and used it all week as a beta. That makes it no longer a toy - it's a game changer!
He said, "it doesn't require anything special on the Surface RT, and is actually quite easy. You just type the network address into the Internet Explorer address bar and you're there!"
The Surface RT Pro Version is being advertised on the web now for $899 as coming soon and will let you use all the apps you use now for business.
So in this case, I have to give a point for the interoperability with the dominant business software market to Microsoft.

Pricing, storage, and functionality like a laptop, Microsoft=2, Apple=1

I wanted to buy a ibook this year, but with all the SaaS I need for my business, I couldn't justify spending an extra $500 on a laptop, so I bought a Dell instead.
I am pretty comfortable with Windows-based machines since I've been using them for so long, like most of the business world. Afterall, don't I have to learn all the new Microsoft software every year anyway to work at my clients?
But to be honest, whenever I have a problem with my laptop, I tell myself, I should have bought the ibook...
My point being, all other things being equal, I'm going to save $500 or $100 bucks where it makes sense. Let's see how pricing stacks up between ipad and Surface RT:

The 32GB Surface RT is priced at $499 and 64GB is priced at $599 which is less expensive than iPad. Touch Cover costs $119.99 and available in five colors. The other cover, called Type Cover is billed as a better option for people who have lots of typing jobs for $129.99 and comes in Black only. Surface 32GB version bundled with a black Touch Cover priced at US$599, and a 64GB version bundled with a Touch Cover priced at US$699.

New iPad with retina display, wifi and cellular 16 GB is $629, 64GB is $829 right now at Best Buy.

The Wi-Fi only iPad mini 16GB is priced at $329, 32GB at $429, and 64GB costs $529 whereas Wi-Fi + Cellular iPad mini 16GB costs $459, 32GB is priced at $559, and 64GB for $659 only. That's without the cover, again, the keyboard cover costs another $129.
So you save $100 buying the 64 GB Surface RT with type pad cover over the 64 GB ipad with type pad cover. But like I said, the cellular in ipad would be worth the extra $100 to me, but ipad not being inneroperable to my business apps, would make the SurfaceRT tablet, the winner in my mind, I can always buy an adapter for cellular.
Marketplace Apps, Microsoft=0, Apple =1

Apple has also refreshed its iPad lineup by launching new iPad 4 and iPad Mini which runs popular iOS 6 of Apple. And, let's face it, ipad has a lot more apps available in its app market place. Point apple.

Windows 8 is going to need developers to make Windows 8 apps if it's going to compete with the iPad and Android tablets. So Microsoft's CEO Steve Ballmer is talking up the volume of Windows machines in the ecosystem and playing down the lack of apps in Microsoft's first ever app storefront that will compete with iPhone and Android smartphones.

Microsoft is just now starting to pitch developers on the benefits of Windows 8. The big one: Volume. Ballmer has said he expects 400 million Windows 8 phones, tablets and PCs in a year.

Overall Score, Microsoft=4, Apple=4, So why do I say it's a game changer?

Surface RT is a game changer for a lot of reasons:

1) Gets Microsoft a decent share of the huge tablet market, which they didn't formerly have. Notebook sales have been in the toilet for the last year losing market share to ipad according to Best Buy CEO Brian Dunn since 2010.
A stat from Gartner said that next year, the research firm estimates there will be 27.2 million Windows-powered tablets and hybrid, portable computers such as the Surface installed worldwide. Gartner's forecast calls for Android and Apple-powered tablets and ultramobile devices to be nearly 10 times that number, or 239 million.

2) Puts them in competition with their own hardware customers who buy Windows.

Reportedly Microsoft was trying to downplay Surface RT at their launch and had all their customers with tablets displaying their products as well. This competition from within may not bode as a good long-term strategy for selling software.
After all, do we buy Microsoft products because of the amazing ease-of-use and extraordinary functionality? Or have they dominated the market because they are ubiquitous? And are they not ubiquitous because they don't compete with their hardware vendor customers?

Game changed.
But Google has been competing in the hardware arena for a while with its' Nexus product lines, and Google is also selling a lot of software and giving away a lot of software for free. Free Google Apps for consumers, to try to penetrate the Microsoft office suite market for enterprise. But what Google is gaining in market share, it's paying to defend itself against law suits (like Apple, Microsoft, and many other tech companies), but hey, they can afford it, with what they are making on "Google Adwords".
So to be fair Microsoft has to pick up market share somewhere with Google giving away copycat software of their bread-and-butter-office products so why not enter the tablet market, since it seems to be the next dominant workforce platform if users like me have their way.

3) Business app interoperability, will make Surface RT dominate business market, once the pro version is available.
Over time the RT will have apps; And it has the software I need for business now.
But Apple has amazing ease-of-use, and they have a dizzying array of apps now (including educational games for kids), so if they can get business apps onto the ipad, like they did with the ibook, then they will continue to dominate in the tablet market, in my opinion. They were first-to-market, they make flawless products, it will be interesting to see where they both go from here.
-------------------------------------------------------------------------------------------------------
Bay Area Inbound is a full-service Inbound Marketing Agency in the SF Bay Area that specializes in campaign creation and lead generation to significantly increase revenue for technology companies.
For more information on getting traffic to your site and generating the leads you need, contact laurie@bayareainbound.com or 510-543-7593.
For more tips and tricks, download our free whitepaper by clicking the box below: