We are so fortunate to live in the SF Bay Area, the weather is nice almost every day of the year. There is great ethnic diversity so we have many cultural activities and great ethnic food choices. We have both beaches and mountains, so we have so many places to enjoy nature, we are truly spoiled. Ok, we do pay more for less when it comes to real estate than almost anywhere else. So its important that we take advantage of all the great free activities we have that are right under our noses.
They say the best things in life are free and I agree with that, think about God, Family, Friends, love, sports, nature, and here are quite a few more you can enjoy in the Bay Area...
1) Hiking and Mountain Biking:
There are so many great trails in the Bay Area, that are so beautiful with trees and rolling hills, rivers, lakes. Almost all these hikes allow mountain bikes, just google to make sure before you leave. Here are a few I discovered through my son being in Scouts that I never knew existed:
Trail Trekker Hikes: This is a progressive hike consisting of 8 hikes, all free, just google: "Cub Scout Trail Trekker Hikes" and there are detailed instructions that give you the locations and describe the hikes in great detail. Some of the Trail Trekker hikes we've done are: Rodeo Lagoon near Marin Headlands, Redwood Creek in Oakland, Flag Hill in Sunol, Tilden Park in Berkely, Coyote Hills in Fremont.
Rim Rover Boy Scout Hikes: When you get through the trail trekker easy hikes, there are 8 more Boy Scout Hikes which are geared for boys 12 and up so they are a little more rigorous. They include: Mission Peak, Mount Diablo, Mount St. Helena, Mount Tamalpais, Mount Wittenberg, and Pinnacles
Random Hikes scattered all over the Bay Area: Los Gatos Creek Trail, Dry Creek, Rancho San Antonio, Sky-line-to-thes Sea Trail starting at the top of Hwy 9 in Saratoga and goes through Big Basin ending at the ocean, just to name a very few.
2)
SF and Marin Activities:
Drive down the most crooked street in the world: Lombard Street
Palace of Fine Arts, Gorgeous water and architecture covering several city blocks. Amazing photo opp, rivals anything in Europe, just walk up and enjoy
Blue Angels Jet Show put on by the Navy and Marine Aviation in SF near the SF Marina every year
Marin Headlands-breath taking view looking down on the Golden Gate Bridge and SF-Great photo opportunity
The Bunkers from World War that line the headlands and gaurd the entrace to the Bay.
Marine Mammal Center
Golden Gate Park
Walk or bike across Golden Gate Bridge
Walk through China Town or cross the wooden bridge in Japan Town, or play frisbee or fly a kite down at the Marina
3) Holiday Activities:
Pumpkin Patch at Ardenwood Farms in Fremont, free hay maze for little tikes and free hay pyramid. There are lots of other pumpkin patches all over the Bay Area.
Creche Exhibit (Nativity Scenes depicting the birth of Jesus Christ) from around the world at the Church of Jesus Christ of Latter-day Saints at 3865 Middlefield Road in Palo Alto, California on Saturday, December 1 through Wednesday, December 5, 2012
Bethleham AD in Redwood City on Middlefield Road, a city block wide, all volunteers wearing costumes and scenery, Roman soldiers, Baby Jesus in the Manager, Mary and Joseph, with a cast of hundreds on Dec 21 thru 24
Christmas Temple Lights and Living Nativity, Mormon Temple in Oakland the whole month of December
4th of July Fireworks available in many cities, they come and go in cities based on budget, so you need to look them up every year to make sure they are still happening where you want to go. Livermore, San Ramon, Milpitas have all discontinued them in the last year.
Christmas in the Park Located in downtown San Jose at Park Avenue and Market, animated and motorized Christmas decorations interact from 2 weeks before Christmas, absolutely free, small kids love it. Hold their hands, it is on a large divider in the middle of traffic going both ways.
4) Natural Bridges:
Ok, this one should fall under Nature Preserves or Beaches, but I'm giving it its' own category, because I want to make sure you don't miss this one. It's such an amazing place to take a family for free. Just North of Santa Cruz driving along the Coast. You can pay $8 to park, but you can also park outside the park and walk in and enjoy everything absolutely free. Not only is there a great sand beach near bathrooms at Natural Bridges, there are also:
Tide Pools with giant anenomes that are 90 years old, crabs, and starfish off to the right as you face the water
100,000 Monarch Butterflies from Mid-October to Mid-February migrate here to seek shelter in the eucalyptus trees, head inland toward the ranger station from the parking gate to find the entrance to the butterfly sanctuary to the right
Beautiful beach with Giant Rock Arches 30 feet offshore which is another great photo op.
5) Parks
Great parks in the Bay Area abound, water parks and parks with equipment and slides and swings for kids in every city. A few water parks we think are worth driving out of our city for are Emerald Glenn Park and Mushroom Park in San Ramon and Dublin.
For adults: parks with lakes to walk, bike, or skate around, basketball courts, tennis courts, soccer fields, baseball diamonds, sand volleyball courts, rock climbing in Saratoga at Castle Rock and at Pinnacles, and lots more.
6) Libraries.
If I didn't have kids, I probably wouldn't know how technically sophisticated and how much great stuff you can borrow from libraries for free these days.
Not only can you borrow books, you can browse online, click the ones you want and have them pull them from 7 different libraries in our town, then the library will email us to come and get them off a hold shelf with our name on them. We can keep them for 2 weeks and then they send courtesy notices that our books are due in 3 more days and we can renew them online for free twice.
Other things you can borrow for free at the library include: movie rentals, books on tape/CD, and now they do free ebook downloads which they expire automatically.
There are Summer Reading Programs to encourage people to read with prizes for kids and adults that include free food at restaurants, tickets to museums, and free books.
7) Geocaching
This is a 12-year-old-new craze that is quickly gaining popularity which is basically a world-wide treasure hunt. See my blog article: "Geocaching, Modern-day Treasure Hunting." for more info.
Use your smartphone to look for hidden containers, there are thousands of geocaches you can hunt for in the Bay Area, 1.8 million containers hidden world-wide and 5 million geocachers. OK, this one isn't completely free, it costs $6 to download the software on your phone. And if you want to upgrade so you can hide your own containers and put flags on the map of your computer of all the containers you find, it's $20. But then you can use it unlimited, so its almost free.
8) Nature Preserves
See the Giant Redwoods in 5 parks: Purisima Redwoods in Santa Cruz Mountains, Muir Woods, Redwood Creek in Oakland, Big Basin Southwest of Santa Cruz Mountains in San Jose, Henry Cowell Redwood State Park in Santa Cruz near Scotts Valley
Marshes in Fremont like Don Edwards team with wildlife, Palo Alto Baylands, and Shoreline Regional Park in Mountain View
9) Beaches
Rio Del Mar and Natural Bridges are two of our favorite beaches down near Santa Cruz. When you go South it tends to be warmer than up in Half Moon Bay or San Francisco. And both of these have bathrooms you can walk to, which is key when you plan to be anywhere with kids all day.
But there are so many amazing beaches in the Bay Area, each unique, some sand, some rocky with tidepools. And they are all free. Glass Beach North in Marin, Stinson Beach, Beaches near Gualala, Moss Beach near Half Moon Bay, there are too many to name.
Tidepooling is awesome in the Bay Area and a little North and South of the Bay especially at Point Lobos in Monterey, at Bay Preschool just South of Carmel, Natural Bridges near Santa Cruz, Moss Beach near Half Moon Bay, and many more. Roll up your pants and bring extra socks, because you're probably going to get wet. See my blog article, "Tidepooling at Point Lobos, A Family Tradition" for more information on tidepooling.
10) Art, Science, Tech, Historical, and Discovery Museums
Rodin Exhibit in Stanford, CA-Outdoor bronze statues that are duplicates by the great master set in a beautiful garden setting
California Missions in Carmel and Mission San Jose in Fremont
There are over a dozen museums in the Bay Area that are always free and 150 more that offer free days.
Here's the link to 162 free kids museums in the Bay Area
I hope this gives you an idea of great things to do and places to go in the Bay Area that won't break the budget. And I also hope you can agree with me, that many of the best things in life are free.
What do you like to do in the Bay Area for free? Have I missed any of your favorites? Have you done any of mine?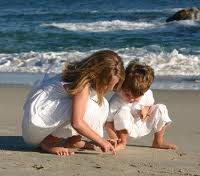 Bay Area Inbound is a full-service Inbound Marketing Agency in the SF Bay Area that specializes in campaign creation and lead generation to significantly increase revenue for technology companies.
For more information on getting traffic to your site and generating the leads you need, contact laurie@bayareainbound.com or 510-543-7593.
For more tips and tricks, download our free whitepaper by clicking the box below: