So, you've heard that inbound links are supposed to be good for internet marketing. Here, I tell you what they do for you, and how to get them.
Inbound links are the primary factor for what is known as off-page SEO (which accounts for 75% of your site ranking score), so they shouldn't be ignored in your overall SEO strategy.
I personally have been shocked that all of my inbound links don't register at alexa. com (I need to register with alexa and pay them to crawl my site to get my inbound links to show up) and some of my inbound links from big companies don't get me high link grades with Hubspot either. They are telling me they use rankings from Seomoz . org, so I registered for a free trial and they will let me know the results in 4 to 7 days when they finish crawling my site. More on Alexa and Seomoz in another blog.
But I can tell you what inbound links HAVE done for me already.
My website traffic spiked by over 500 visits I received from an inbound link for a guest blog I wrote for Hubspot. And my traffic rose by 200 visits from an inbound link that Actian gave me for a blog I wrote about their product Vectorwise, so that put my traffic for the last month and a half at 1,017 visitors. And more importantly it generated new leads for other companies interested in my business who clicked my calls-to-action and filled out the forms on my landing pages when they came to read those articles.
Just sayin...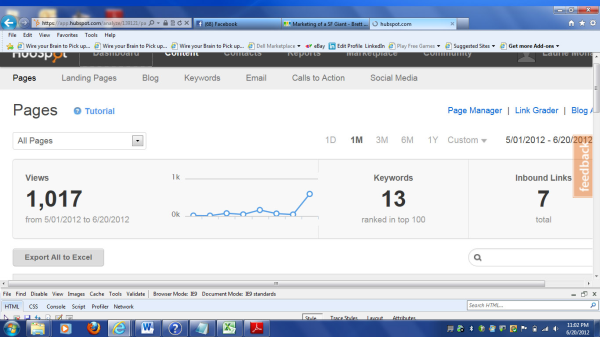 So how do you get these inbound links?
The first part of inbound link anatomy is anchor text. Anchor text are the words used to link to you, and should be the words you want to rank for. My website url www.bayareainbound.com happens to contain my target keywords so it is easy for me to rank for those keywords and use my URL as anchor text.
There is a lot of advice you can google about how to get inbound links. One of the better ones, if you want to try every trick in the book and make this your full-time job google: Larry Chase's "12 Steps to Inbound Links". The list is long and complex and don't apply to every business, some are more retail focused rather than high tech B2B for example. So in these bullets, I tell you the ones I focus on that have worked for me.
Things I do that work with my business model:
Register with Seomoz . org and Alexa . com so the inbound links you do get will pay off because people who look them up will give you credit for them and your ranking will be high
Link back to your site by putting in your URL when you comment on blogs
When you do a press release, and get it published on any online site like Business Wire or any other publication, the bonus is you get inbound links
Target Customers, you have to know and understand their business well to write a blog about them, and when you do, they will find your blog article and post it in their media section with an inbound link. This could be a good opportunity for you to get a lot of referral and related traffic.
Write a product review online and link back to your site.
Be creative, write about what moves you, it will move other people and you will get more links and reads through referral traffic.
Have you had similiar good luck with inbound links? How do you go about getting them?
---------------------------------------------------------------------------------------------
Bay Area Inbound is a full-service Inbound Marketing Agency in SF that specializes in getting you the leads you need to significantly increase company revenue.
Bay Area Inbound is a Hubspot Value-Added Reseller. Hubspot makes Integrated Inbound Marketing Software and is the #2 Fastest Growing Software Company in the World.
For more information on getting traffic to your site and generating the leads you need, contact laurie@bayareainbound.com or 510-543-7593.
For more tips and tricks, download our free whitepaper by pressing the orange button below: