Blogging is the number one way to get new business today. People use the internet to shop today, it's cheaper, faster and more comprehensive than any other way to research. Instead of interrupting people to tell them about something they or may not want, smart companies today use internet marketing to let people find them and their products and services.
Search Engines like google bring potential customers to your website based on how many times the word they searched for shows up in the right places. Blogging gives you lots of chances to put those keywords in AND create meaningful content that educates humans on your service or product offerings.
So how did my prediction last week work in my blog article: "Search Rankings Tanking, No Blogging = No Traffic"? To recap, I hadn't blogged in two months because I picked up two tech gigs and I'm a Mom, so I am really busy. But I said if I put up 6 articles, I would drive a lot more traffic to my site.
I was right. I only had time to write 4 articles, but one of them took off like wild fire and I got almost 100 reads on it.
I have to disagree when companies choose to go for Pay-per-Click and SEO over content. Because Pay-Per-Click stops working when you stop paying and builds no credibility in either human minds or with search engine rankings long-term. To quote the webmaster at Grocco Financial, Albert Olsen, who has created a website in the top 4% of the world rankings on Alexa.com. "SEO is the biggest scam job", his sight has two blogs which have generated tons of inbound links and traffic and of course business for Grocco.
Blogging in a personal tone is a lot more effective than press releases and white papers, its more readable for would-be customers so allows you to educate them and gain credibility for your products or services. Blogging gives you something to share via social media and it drives up your website visits and builds your brand equity in people's minds.
Below, you can see my visits shot up by more than 100 visits this week, I ranked in the top 100 for 13 of my target keywords, amazingly I rank for 5 of my keywords in the top 10, and I have only been at this for 6 months. That means when people look for our services they find us at the top of a google search.
Do you use PPC, SEO, or content to drive traffic to your site? Do you need help generating content that attracts? Bay Area Inbound can help...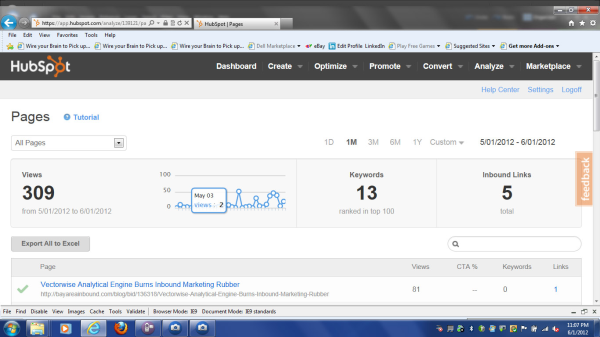 Bay Area Inbound is a full-service Inbound Marketing Agency in SF that specializes in getting you the leads you need to significantly increase company revenue.
Bay Area Inbound is a Hubspot Value-Added Reseller. Hubspot makes Integrated Inbound Marketing Software and is the #2 Fastest Growing Software Company in the World.
For more information on getting traffic to your site and generating the leads you need, contact laurie@bayareainbound.com or 510-543-7593.
For more tips and tricks, download our free whitepaper by pressing the orange button below: