So happy when I opened up an email this morning from Hubspot and saw that our company made the Hubspot All Star List. We did it by getting a high "Chi Score" for "doing inbound marketing right". It made us the #7 Top Performer out of more than 4,000 Hubspot Customers.
One of the things I like most about Internet Marketing is the results are so measurable. It's kind of like baseball (or any sport), we live for the stats.
What are they measuring and what is a Chi Score? Read it in Hubspot's own words below:
What is CHI?

"HubSpot measures the success of each customer using a Customer Happiness Index score. We call it CHI, for short. Our proprietary CHI algorithm takes into account each HubSpot customer's level of installed software, patterns of usage, the volume and quality of the content they produce, and the results they get from inbound marketing with HubSpot. So customers with more traffic, leads, subscribers, and engagement will earn higher CHI scores, just by doing Inbound Marketing right. The HubSpot CHI scores range from 0 to 280 and are recalculated weekly."
Why CHI?

"As the saying goes, your success is our success. With thousands of HubSpot customers using our software every day, we've been able to collect enough data to boggle the mind. From this data, we've learned that the more you use the software, the more traffic and leads you will get. In short, HubSpot works -- if you use it. And the more you see results, the happier the customer will be. And happy customers score higher CHI numbers. It's all related, see, like some giant, cosmic wheel of life. Crazy, man. Crazy."

Being #7 may not blow your socks off, one factor that slowed us down, TEMPORARILY, was changing our branding from SMK Consulting to Bay Area Inbound.
In most cases, it wouldn't be worth it to change your established company's brand name just to incorporate relevant keywords. Some factors to consider are:
How well established your brand name is now
How much traffic you get to your site now
How many word-of-mouth referrals you are getting now
Target segment perception of your brand and goals for brand name change
We can teach you MANY ways to drive traffic (customers) to your site, capture leads, and nurture them into sales.
We're not trying to brag by telling you that we are top performers, just demonstrating that we can help you get the leads you need to significantly increase your revenue.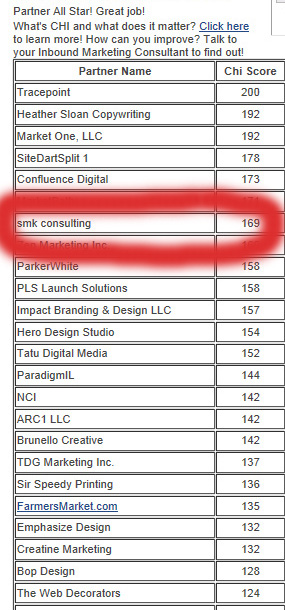 Sources: Hubspot, Partner All-Star List
Bay Area Inbound is a full-service Inbound Marketing Agency in SF that specializes in getting you the Leads you need to significantly increase your company revenue.
Bay Area Inbound is a Hubspot Value-Added Reseller. Hubspot makes Integrated Inbound Marketing Software and is the #2 Fastest Growing Software Company in the World.
For a free evaluation and more information on getting traffic to your site and generating the leads you need, contact laurie@bayareainbound.com or 510-543-7593.
For more tips and tricks, download our free whitepaper by pressing the orange button below: