While on-page optimization is a good first step, you will ultimately get much more leverage by having links from other sites to yours. Inbound links used to just be a source of referral traffic. Now, they influence your search engine rankings as well.
Google was the first search engine to use links as a significant ranking factor. They viewed a link from one site to another as a 'vote' for the target site. The more votes you have, the more authoritative your site is considered.
There are two main benefits gained through each link:
1. Better SEO authority of the linked-to page and increase in authority of the site as a whole
2. More relevancy of the page for the keywords that are used in the link's anchor text
Anchor text is the clickable text of a link. To give an example, let's say a page was linked to in the following ways:
Bob's Hardware Store
Buy Power Tools at Bob's Hardware Store
The second link (often referred to as an 'anchor text rich' or an 'anchor text specific' link) is more likely to help Bob's store rank for the keyword phrase 'power tools.'
Note that not all links pass value. Webmasters can add a 'nofollow' attribute to an outbound link in order to achieve this. Links from some popular sites such as Wikipedia and many social media sites like Twitter, for example, are all nofollow. The way to verify whether a link passes value is to check its HTML. This is achievable in different ways through different browsers but is generally doable.
Link Building With Head Terms vs. Long Tail Terms
In the previous section, you learned how to identify the search terms that your site would benefit from targeting. Slightly different link building tactics may be required, depending on the competitiveness of a keyword.
Head Terms
Ranking for highly competitive head terms typically requires a more diverse source of links pointing to the appropriate page that targets the term. The links will need to use the corresponding keyword as the anchor text as often as possible.
Mid and Long Tail Terms
Pages that target less competitive mid-to-long tail terms don't typically require as many external links. Instead, sites can rank for these terms by gaining authority through strong, trusted links, often to the front page of the site. Solid information architecture and good on-page keyword targeting will then provide the relevancy signals needed to rank for these terms.
Most of the link building tactics discussed later in this chapter can be used either to target specific head terms or simply to build the authority of the site, depending on your specific needs.
Tools for Link Research
It's often useful to know about the links your site currently has. This information can help you make decisions regarding whether to aim for more links that will build site authority or to focus on deep links with specific anchor text.
Researching your competitors' links can also be valuable, particularly in identifying link opportunities or niches that could also be useful to your link building campaign.
Yahoo! Site Explorer - http://siteexplorer.search.yahoo.com/
Yahoo! provides a free tool that lists up to 1,000 of the links to any site. Enter your domain name or a particular page, select the 'Inlinks' button, and change the settings to 'Show links: except from this domain.' Also select 'to: entire site' if you'd like to see links to the whole site rather than just a single page.
These links are not in any particular order, and the list will include links that do not pass any value as well as those that do.
Open Site Explorer
-
http://www.opensiteexplorer.org/
This tool provides information about the top 1,000 links to a site. These can be filtered to exclude links that do not pass value. Additional information about each link includes the anchor text used and the authority of each linking page.
The Open Site Explorer tool also includes reports that showcase the most popular pages on the site, the most common anchor text used to link to a page or site and other information about the strength of the page.
HubSpot - http://hubspot.com/products/
The HubSpot Inbound Marketing software includes a 'Page Grader' component that helps analyze the SEO value of a page, including its inbound links.
Page Grader assesses the optimization of every page in your site, making it easy for you to fine-tune pages to get the top ranking for specific keywords. Page Grader tracks the following metrics for every page on your site:
Page Title
Number of Ranked Keywords
Visits
Inbound links
Internal links
PageGrade
The Page Grader dashboard lists these key search engine metrics by page and makes it easy to prioritize which pages to optimize first.
The Spectrum of Link Building Tactics
Before looking at some particular link building tactics, it's worth considering how creating each link can require a different mix of input from the link builder and from the editor of the linking site. Different link building tactics require a different mix of manual input on the part of the link builder and editorial decisions on the part of the site from which the link is gained. Link building tactics can be divided into those that are:
A combination of manual input and editorial decisions
Completely Manual
At the top of this spectrum are tactics that require input from no one but the link builder. These could include leaving links in the 'comments' section of other sites, adding links to social networking profiles or submitting a site to online directories that accept every submission.
Clearly, these can be easy ways to increase the number of links to a site. Since these links are so easy to obtain, they offer little to no value.
Mixture of Manual and Editorial Input
The center of this spectrum is where a lot of link building time and effort can (and typically does) get spent. In many cases, it involves building relationships with sites and individuals who may link to you, or contacting site editors to tell them about particular content your site has and encouraging them to link to it.
Completely Editorial
The bottom of this spectrum covers situations where a link was given unprompted. When a site has particularly high-quality content or provides useful or unique resources on a particular topic, people are more likely to link to it without needing to be asked or invited.
Link Building Techniques
Now that you know why link building is important and understand its different types, let's look at some specific tactics that have been proven successful. This is by no means an exhaustive list of techniques that are used, but it should help you get started on building links to your site and hopefully inspire you to think of ways that your site can continue to attract links in the future.
Quality Content
The purest and most fundamental form of link building is to simply create a compelling reason for people to talk about your website (or business, or organization), and then let them share it with others by linking to it. Think about your niche, and identify some sites from which you'd like to attract links. Then you can create content that would be relevant to their audience as well as yours. You can openly state that others should feel free to share your content as long as they link back to your site.
Examples of quality, viral content that could attract links include:
A home electronics retailer's page explaining how to create a wireless home network
An industrial window cleaning company's list of the most photogenic spots in their city
An auto insurance company's weekly 'auto repair' video in response to questions submitted by the public
A blog is an ideal place to publish such content. It encourages you to continue producing quality content and gives incentives for others to come back to your site and share your content.
Directories
The technique of submitting to relevant directories has been maligned in recent years, typically because of the low quality of many directory sites. Search for sites in your niche or your local area that maintain some kind of directory or recommended website list. You can begin by looking at professional organizations and trusted local sites or searching online for terms such as 'furniture repair directory.' In general, it's good to target sites that have a reasonably high Page Rank and don't contain 'spam' listings.
Outreach
Traditional PR practitioners and advertisers will recognize that contacting publishers (typically journalists) to 'pitch' a story has online parallels – you can contact a website owner or blogger to introduce them to your organization, your products, or any non-commercial content you've created. Use search engines to find relevant sites to contact, or use directories such as Blogged and Blogflux to find blogs in a particular niche. When contacting people by email, be as genuine as possible and don't give the 'hard sell.' Explain why you chose to contact them (perhaps because they're very relevant or have written about or linked to similar content in the past). Invite them to take a look at your site, or point them to a particular page.
Giveaways
Competitions and prize draws are specific link building tactics that often work well. You can give away a substantial prize on your site and receive links to the competition page, or you might consider giving smaller prizes to a variety of publishers and letting them run competitions on their own sites in return for a link back to you.
Guest Blogging
If you have particular expertise or insight in your niche, many sites may be interested in having you create content for them. They get the benefit of having some useful content on their site, and you can be credited with one or more links back to your site. Additional benefits of guest posting are that you may get exposure to a new audience, and you may have better control over the anchor text used in your links. To begin guest blogging, try talking directly to other site owners who you know and who may be interested in having you create content for them. Alternatively, you can search online using specific terms. For example, a telescope manufacturer might search for opportunities using 'astronomy blog.'
Use Your Community or Customers
The people who already interact with or have purchased from your site may be a useful source of links. Perhaps consider the following:
Ask your existing, satisfied customers to promote you. Email them to invite any that have a blog or website to help you by reviewing or linking to you. You might include the HTML code for the link in the email, so they can simply copy-and-paste the snippet into their site.
Many community sites create badges or buttons for members to place on their own sites. This allows users to show their allegiance, while also linking back to you.
Link Bait
Defining this term as 'content designed to attract links' makes it sound a lot like anything else described here. In fact, the term is typically reserved for content that is also highly shareable. Such content often reaches success by being shared widely throughout social media sites first before being linked to by bloggers and other site owners. Examples could include a clever information visualization, creative videos, useful resources, breaking news, quizzes or amusing cartoons. Link bait doesn't necessarily need to be 'flashy' as long as it is creative: a well written 'Top 10' list or a simple piece of controversial content could get 15 minutes of fame as the web's 'hottest thing' and get many links from a variety of sources.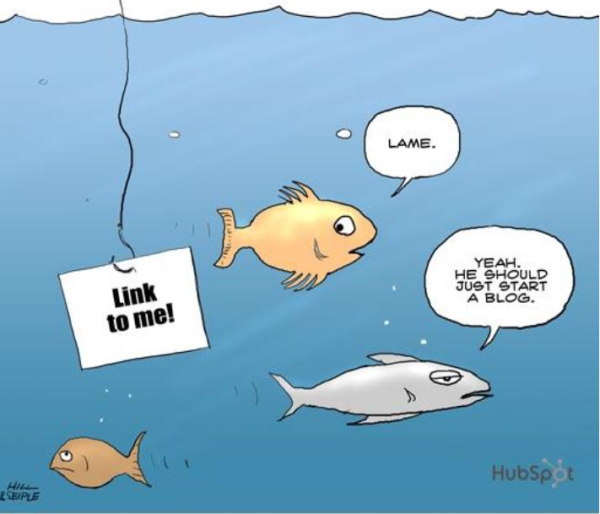 Sources: Hubspot, 2012.
Bay Area Inbound is a Hubspot Value-Added Reseller. Hubspot makes Integrated Inbound Marketing Software and is the #2 Fastest Growing Software Company in the World.
For more information on getting traffic to your site and generating the leads you need, contact laurie@bayareainbound.com or 510-543-7593. Bay Area Inbound is a full-service Inbound Marketing Agency in SF that specializes in Lead Generation.
For more tips and tricks, download our free whitepaper by pressing the orange button below: