What's Important to Marketers Now?
Asked to rate which channels have become more important to them over the past six months, marketing professionals cited the following:
Social media: 62%
SEO (organic search): 52%
Blogs: 36%
PPC (paid search): 20%
Trade shows: 14%
Direct mail: 10%
Telemarketing: 9%
Blogs Still Most Important Media Channel
Similarly, asked to rate the services they use as "critical," "important," or "useful," 25% of marketing professionals rated their company blog as "critical" to their business; another 34% rated their blog as "important." Overall, 81% of marketing professionals rated company blogs as "useful" or better.
LinkedIn, YouTube, Facebook, and Twitter were considered "useful" or better by more than 60% of companies. By contrast, most users of StumbleUpon, Yelp, and Digg rated those channels "somewhat useful" or "not useful.''
Budgets
Inbound marketing budgets are up slightly: The average proportion of budget dedicated to inbound marketing rose from 32% in 2011, to 35% in 2012, whereas the percentage dedicated to outbound budgets fell slightly, from 24% in 2011, to 23% in 2012.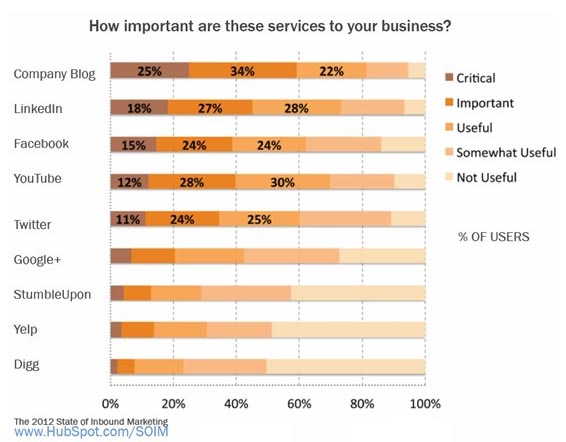 Sources: Findings from the 2012 State of Inbound Marketingreport are based on a January 2012 survey of 972 professionals who were familiar with their company's marketing strategy. Respondents comprised marketers, business owners, entrepreneurs, and executives at companies of various sizes and industries. Some 72% of these professionals worked in B2B companies and the range of industries varied greatly.
Bay Area Inbound Marketing are Lead Generation Consaltants in SF, Bay Area. We specialize in getting companies the leads they need to significantly increase revenue.
For more information on these and other inbound marketing principals contact Laurie@BayAreaInbound.com or 510-543-7593. Or download our free whitepaper by pressing the orange button below: