Many people underestimate the power of social media. They think of Facebook and Twitter as places for social interactions and "fun", not realizing that they can be powerful inbound marketing tools.
These statistics show that social media is a powerful tool that could have a tremendous impact on your company's traffic, leads, and inevitably, sales.
Key Concepts and Statistics
US Internet users spend 3x more minutes on blogs and social networks than on email.1
93% of US adult Internet users are on Facebook.2
1 out of every 8 minutes online is spent on Facebook.3
49% of people use Facebook to share content.4
More than ½ of active Twitter users follow companies, brands or products on social networks.5
79% of US Twitter users are more likely to recommend brands they follow.5
67% of US Twitter users are more likely to buy brand they follow.
Social media amplifies your content, your website and your brand. It allows for you to establish and foster a more personal relationship with your potential customers, and when done correctly, can generate website traffic, inbound links, and leads for you. Social media has become a major part of consumer culture, and it is time for you to capitalize on it.
Below's chart is the average US user spends in a week on online activity: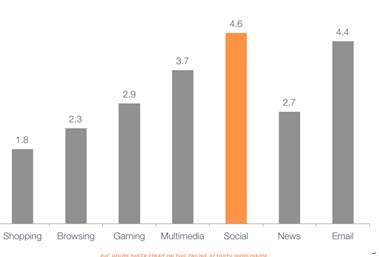 Sources: Hubspot, 2011.
Bay Area Inbound is a Value-Added Reseller of Hubspot. Hubspot is the 2nd fastest growing company world-wide.
Contact laurie@bayareainbound.com or 510-543-7593 to find out how we can help develop your social media. For more social media principles download our free guide by pressing the orange button below: