The majority of companies do not have a system in place that tracks conversion performance of their calls-to-action and landing pages.
Website design is not a one and done deal. Your web pages should evolve and improve over time. This is especially important for your landing pages since they help convert your faceless website visitors into opportunities that you have collected vital information about.
Key Concepts and Statistics
Your offers should be living, breathing documents that are constantly changing.
They need to help educate your prospect's on the buying process.
If your landing pages and offerings do not seem to be reaching their full potential, you should try to:

Attach their links in your email newsletters.
Have your pay-per click ads go right to the landing page.
Use them as the next step after a trade show or event.

Helpful sites for experimenting with your conversion events: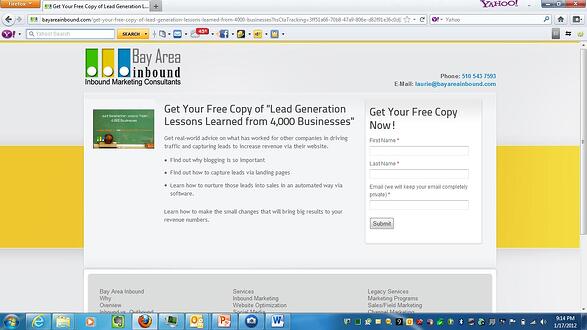 Source:
Hubspot and Bay Area Inbound Co-Branded Guide: "Essential Guide to Internet Marketing".
Click to get your Free Copy now for more info: "Essential Guide to Internet Marketing".
Bay Area Inbound is a full-service Internet Marketing Consulting Company and proud reseller of Hubspot Software.
Please explore our site www.bayareainbound.com for more information on how we can help your company Get Noticed, Get Talked About, Get Found, Get Leads, and Get Sales.