There is a certain nuance to Twitter; it's much different from Facebook, and tends to attract a more diverse mix of active consumers waiting to learn about the newest products and latest trends. It will be pivotal for your prospects to understand these nuances so they can craft an effective and interesting Twitter prescence.
Follow the 5 Guides Below for Effective Tweeting:
Use your twitter handle to promote your brand.
Twitter users who fill out their bio have over 6x times as many followers than those that do not.1
Use non-diminutive words such as "expert" or "guru" that show your authority and expertise for your job description.

People who use these kinds of words for their job description average 100 more followers than those people that use business jargon for job description.1

Set up a page that lists all twitter handles of employees in your company.
Those who put links to their blog, company website, and other social networks on their twitter have 6x more followers than those that don't.1
It is important for you to establish a relatively casual atmosphere on your twitter account; it will create a more informal, yet personable and comfortable relationship with potential customers that encourage them to engage with you often.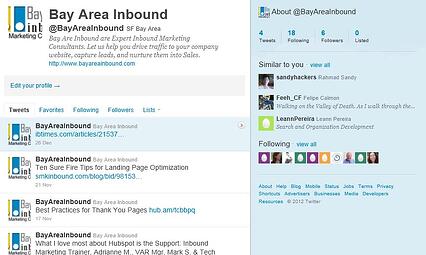 Source: 1 Hubspot the Science of Twitter
Bay Area Inbound is a full-service Inbound Marketing Consulting Agency and a proud reseller of Hubspot Software.