Your Facebook page should strengthen existing relationships and forge new ones. To do this, you need to perfect the timing and composition of posting original content, and learn how to best cater to the needs of each market segment. You will need to closely monitor your Facebook page to understand what your fans want.
Business Social Networking is one of the top 5 Cost-Effective Marketing Strategies along with SEO, Blogging, Calls-to-Action, and Lead Nurturing. Let's look at what facebook users are interested in by demographic and market segment:
The most frequently used activity for young Facebook users is wall posts.1

Focus on social aspect (invites, graffiti, etc.)

The older Facebook demographic is more interested in using Facebook for themselves.

Most frequent activities: liking pages, using apps, etc.1

Share original content

60% of links shared on fb are published content.2
Additional 36% of shares were embedded content.2

Put like or recommend buttons at the top of the blog article.

Community will build up a reputation for the article by "liking" the content.

Post articles on the weekend.

51% of American companies block Facebook at work.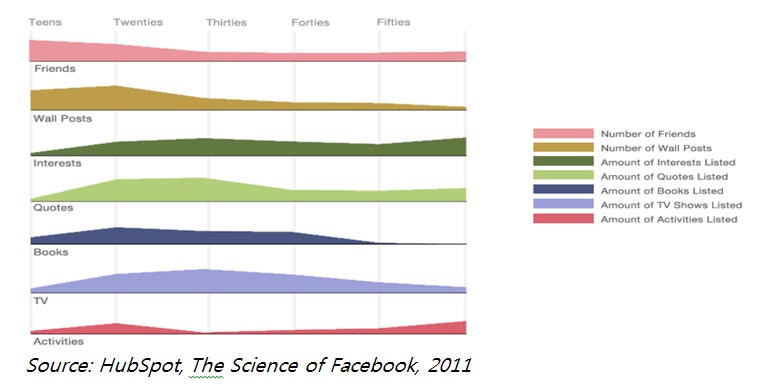 Your Facebook page should be the launching point to your home website, blog, and conversion offers. By encouraging discussions on your Facebook wall, you will be fostering a community in which your newest visitors interact with your most dedicated and loyal customers. In doing so, your existing customer's excitement to share and interact with your material and page could impact your more casual fans' decision to purchase your product.
Sources:
1 HubSpot, The Science of Facebook, 2011
2 eMarketer, Online Content Format Shared Most Often by US
Bay Area Inbound is a full-service Inbound Marketing Consulting Agency and a proud reseller of hubspot software.