Does your company website have-call-to-action buttons on that link to great offers? If the answer is NO, your website doesn't stand a chance at generating a significant amount of leads. The way people shop today is through search engines like google and through word-of-mouth referrals from friends.
Content offers on a website should educate your prospects, and help them get smarter about what they need. By providing them with this advice, they will come to understand how your goods and services could potentially fill that need - they should also map to different stages of your sales process, so that leads generated can be nurtured accordingly.
Key Statistics:
•It is only in the last third of the sales process that prospects actually want to engage with a sales representative, Focus, 2011.
•Inbound marketing costs 62% less per lead than traditional, outbound marketing, Hubspot, 2011.
TakeAway:
Shoppers today want to use the Internet to educate themselves when they are in the market for your product or service; Calls-to-action let you keep them engaged by capturing leads that can be further educated as they move down the sales funnel in their own time frame. Without capturing their contact info via calls-to-action, you run the risk of them finding a competitor who engages them or being last on their long list of things to do.
Calls-to-Action beget Warm Leads, Warm Leads beget Sales.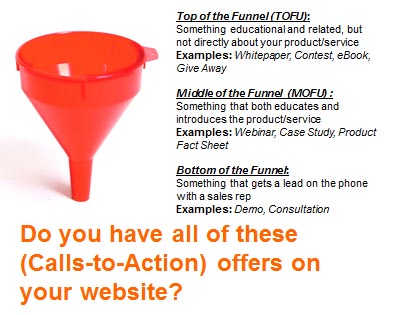 Bay Area Inbound is a Full-Service Inbound Marketing Agency and a Proud Reseller of Hubspot Software