Having active social media accounts on platforms like Facebook, Twitter and LinkedIn is no longer a 'nice to have' – it's a 'must have'. That's right, you will see a big return on a facebook business page. How big? Read these statistics:
•93% of US adult Internet users are on Facebook.1
•Marketers who spent 6 hours a week or more using social media and engaging/sharing content on it saw 52% more leads than those who did not.2
•Companies that use Twitter average double the amount of leads per month than those that do not.3
•Both B2C & B2B companies are acquiring customers through Facebook.
•More than 1/3 of marketers say Facebook is "critical" or "important" to their business.4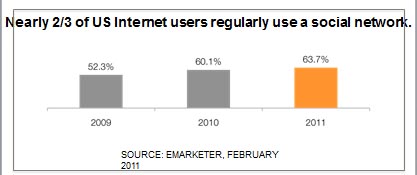 Social media is an effective way to not only create exposure for your business online, but it is a proven way to significantly engage with prospects and generate leads.
1 BLOGHER, APRIL 2011
2 SOCIAL MEDIA EXAMINER, 2011
3 HUBSPOT, STATE IF INBOUND MARKETING LEAD GENERATION REPORT, 2010
4 HUBSPOT, STATE OF INBOUND MARKETING REPORT 2011
Bay Area Inbound is a Proud Reseller of Hubspot Software and a Full-Service Inbound Marketing Consulting Agency.