Maybe you know about about SEO, maybe not. Regardless, below is information to convey how mission-critical good rankings are to online marketing.
•Worldwide, we conduct 88,000,000,000 searches
per month on Google.1
•70% of the links search users click on are organic—not paid.2
•46% of daily searches are for info on products or services.3
•75% of users never scroll past the first page of search results.4
If your business is not ranking well for the words that describe your products and services, then you're not getting found for them by potential customers either.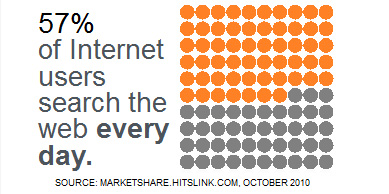 Statistics provided by Hubspot and:
•1SEARCH ENGINE LAND, FEBRUARY 2010
•2MARKETINGSHERPA, FEBRUARY 2007
•3SRI, October 2010
•4MARKETSHARE.HITSLINK.COM, OCTOBER 2010
Bay Area Inbound is a proud reseller of Hubspot Software. Let us show you how we can help to make your website pop up in a search by your potential customers for your products and services.