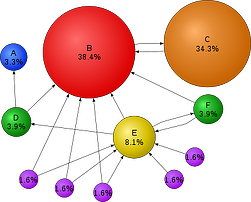 "I need more traffic to my site" is a common concern. There are several ways you can update your website so it will yield higher Google search rankings and drive more web traffic to you. While Google frequently updates the complex algorithm that its search crawlers follow, here are the five basic rules to follow.


Build links - Google crawlers follow the links from your site to the pages linked to it. They are trying to figure out how important your site is. The more that other sites link to your site, the higher you will rank. Google can tell when people pay for links to their site so avoid this. You want meaningful links from other sites that admire your content, not paid links.
Generate quality content - Having interesting, useful content that is refreshed on a regular basis will make you more valuable Also, visitors quickly decide if they will stay on your site or bounce, generally within about 10 seconds. Your titles and content should be written clearly so Google search and visitors can determine if your content is relevant to their search.
Insert keywords in a few places – Google crawlers look for keywords on your site that match the keywords searchers input. Once you pick keywords to use on a page, use them more than once on that page. Important spots: the header, in the text and in the image description. On the flip side, don't cram your page with keywords. Make sure the prose flows and sounds natural.
Website longevity – Web pages that have been up longer are valuable, provided they have content that stands the test of time.
Adjusting your site to rank higher on Google searches will drive more traffic to your site. More traffic means more leads and more leads mean more sales for your business. Contact Bay Area Inbound for more ideas.