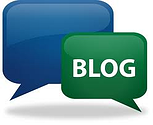 When people look for information about a product or service they want to buy, many people start with an internet search. Give them a chance to find you by having a business blog on your site.
Think about the brilliant ways your products or services solve problems for your customers. Write a practical and non-product focused business blog about the benefits of your offerings. Use carefully selected keywords in the blog and promote your content through social media.
A business blog will:
Show you are a thought leader in your industry
Expand your visibility on the web
Attract high quality traffic
Earn people's trust
Help your rank in search engines
Business to Business (B2B) companies that blog receive 67% more leads per month than those that don't blog. For Business to Consumer (B2C) companies, the yield is higher - 88% more leads.
How frequently should you blog? Consider that those who blog at least 20 times per month see nearly 4 times more leads than those who don't blog. Once you draw visitors to your business blog, you can offer call-to-action buttons for webinars, case studies or fact sheets that will introduce your top performing products or services.
As marketing transitions from the outbound marketing of pushing out a message through advertising to inbound marketing where people find you, having quality blog content on your website is essential. Highlighting your expertise on your business blog will help you build a relationship with your site visitors and convert more of them to sales leads.