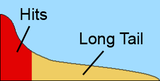 Part of driving more web traffic to your door has to do with choosing the best keywords for your business. Search engines extract keywords from titles, headers, on-page text and inbound links. Using the right ones is part of the formula that determines how high up you land on search engine results.
A few keywords have high search volume and traffic. They live in the "Hits" part of the keyword graphic above. You want the keywords that live in the long tail. These have less traffic but give you a better chance at a higher search engine rank.
Here are several tips to develop the keywords that will drive relevant web traffic to your door.
Brainstorm – Develop a long list of possible keywords. Think of general keyword categories (printer, dentist, or lawyer), both single and multi-word keywordss.
Variations - Think of variations of those words (printing, dentistry, or attorney).
Talk to clients - Ask which terms they would use to search for you on the web.
Competitors - Look at your competitors' sites for keywords.
Geography – Consider adding your city or region to your keyword strings. When people search for a house cleaning service, they don't want one located in another state.
Descriptive words – Think of descriptive words to add to your keyword strings.
Then finesse your list. Consider which keywords reflect your company's competitive advantage. Can you deliver a better price, service or quality? Do you specialize in one particular niche? Which products or services do you want to highlight in keywords? Preferably ones you can scale up for delivery quickly, once you implement a successful inbound marketing program.
Keywords are just one part of search engine optimization (SEO). If you use our tips to pick the right keywords, you will find more visitors on your site who have been searching for the products or services you offer.
For inbound marketing consultants that will drive traffic to your site, capture leads, and nurture them towards sales....email Laurie@bayareainbound.com or call 510-543-7593 mbl.
To download our free whitepaper that will give you more tips and tricks, click the button below: