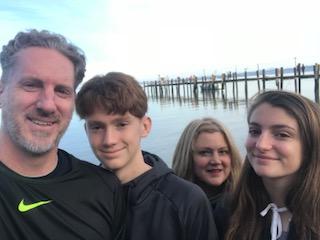 I am starting to deeply get the significance of the buddhist principle of living in the moment.
Example: we had a perfect day on February 14th, 2015. We biked at China Camp for the first time. The views were amazing. There is a pier that jets out into the reflective water with a picturesque-old-fishing boat tied off. There are single tracks for biking with steep climbs and shady fire roads zigzagging through the green trees. The views of the bay from the grassy hills above are breathtaking.
On our way home we ate at a really good Basque restaurant that was a converted-pink house near China Camp. For Valentine's day they served four courses: salad with cheesy toast, watercresss soup, entrees, and dessert. We had to eat outside under heat lamps because we didn't have a reservation and weren't dressed for the occassion. Luckily we had lots of jackets and blankets so we were toasty. We've been back to China Camp twice since and loved it each time, but haven't caught that Basque restaurant open again.
Read More