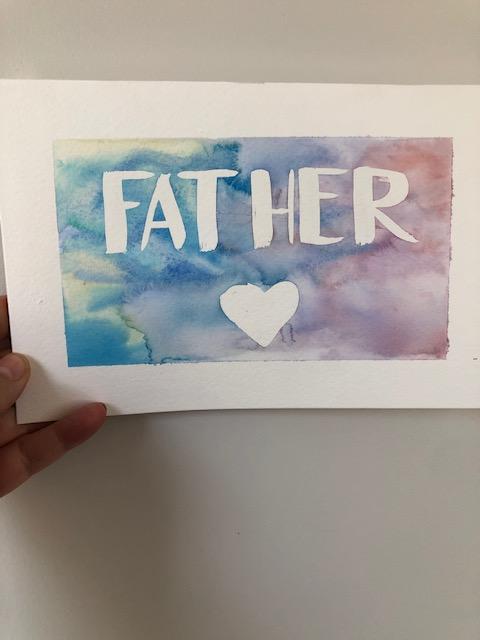 Happy Father's Day to all you hard working Dad's out there and all you Dad's who want to be working and aren't. It's a hard time right now for everyone, but for people who have lost jobs, homes and businesses, and loved ones, it's a lot harder, obviously.
I miss my own Dad for sure.
Kaeli made this great water-color card for Marc for Father's day. She also posted the two old photos below. I ordered him skinny dipped almonds and we're going to make his favorite dinner. He got to go golfing with a friend again yesterday, so he's pretty happy. He will call his Dad later today too.
We definitely appreciate what a Great husband and Father he is.
Fathers are super important to our society, as well as their own families, obviously.
In The Science of Dad and the 'Father Effect'
There are data-driven reasons why kids do better with father figures in their lives, by Joshua A. Krisch Updated May 19 2020, he said:
"The impact of fatherhood is not subjective, but an objective and documented phenomenon. Although motherhood has dominated past parenting studies, researchers are learning more about what makes a good dad and how to be a good dad every day. So far, they know that kids who grow up with a present, engaged dad are less likely to drop out of school or wind up in jail, compared to children with absent fathers and no other male caretakers or role models. When kids have close relationships with father figures, they're less likely to have sex at a young age and tend to avoid other high-risk behaviors. They're more likely to have high-paying jobs and healthy, stable relationships when they grow up. They also tend to have higher IQ test scores by the age of 3 and endure fewer psychological problems throughout their lives when fatherhood is taken seriously."
"When fathers are actively involved with their children, children do better," explains Paul Amato, a sociologist who studies parent-child relationships at Pennsylvania State University. "Research suggests that fathers are important for a child's development."
Read More