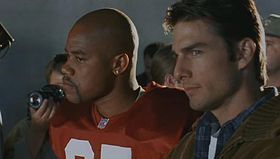 In case you've been living under a rock, or you skipped the movie because it was rated R, and never got around to watching it on vidangel...
One of the funniest movie scenes ever is in "Jerry Maguire" where Tom Cruise is cast as a sports agent, who through a series of unfortunate events, ends up with only one very-talented client, played by Cuba Gooding Jr.
This particular client has a propensity for telling everyone, including the media, that "He wants a $10 million contract and sponsorship deals for major brands because he's a great football player".
Maguire is trying to coach him to tone it down, because his only hope of a payday is this one player.
He's telling him over and over emphatically, "Help me, to help you. Help me, to help you!"
Gooding's character is un-phased by this coaching, but finds Maguire's dedication and desperation to help him succeed, to be very funny.
It's hilarious, but as a parent of teens, I can definitely relate. Who hasn't felt like saying that to their kids once in a while?
Fortunately, Gooding's character makes a huge play that saves the big game, and they both end up with a big pay day.
It's an iconic movie and both actors did a magnificent job in their roles.
Read More