In case you've been living under a rock, or you skipped the movie because it was rated R, and never got around to watching it on vidangel...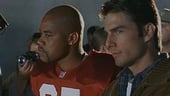 One of the funniest movie scenes ever is in "Jerry Maguire" where Tom Cruise is cast as a sports agent, who through a series of unfortunate events, ends up with only one very-talented client, played by Cuba Gooding Jr.
This particular client has a propensity for telling everyone, including the media, that "He wants a $10 million contract and sponsorship deals for major brands because he's a great football player".
Maguire is trying to coach him to tone it down, because his only hope of a payday is this one player.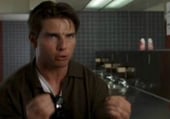 He's telling him over and over emphatically, "Help me, to help you. Help me, to help you!"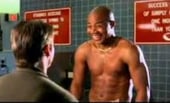 Gooding's character is un-phased by this coaching, but finds Maguire's dedication and desperation to help him succeed, to be very funny.
It's hilarious, but as a parent of teens, I can definitely relate. Who hasn't felt like saying that to their kids once in a while?
Fortunately, Gooding's character makes a huge play that saves the big game, and they both end up with a big pay day.
It's an iconic movie and both actors did a magnificent job in their roles.
Show Me the Money!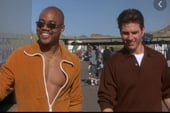 Cuba Gooding's character was just trying to make a living for his family and felt he should be compensated in line with his contributions. Understandable, we all feel that way, I think.
In the movie, Gooding's character demonstrates that he is basing his life by a code of ethics, or principles, when he is coaching Jerry Maguire about not "stealing the putty" from the single mom who is Maguire's assistant.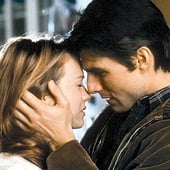 Cruise disappoints the lady, but comes back, and is trying to tell her how sorry he is. She has her most famous line, "You had me at hello."
There is a lot to be learned from the movie, and it's very funny.
New subject...I'm re-reading The Seven Habits of Highly Effective People and getting a lot out of it the second time around. How does this relate? The whole book is about living based on principles.
Concepts from Seven Habits of Highly Effective People
The basic premise of the Stephen R Covey book, is to live our life based on principals such as focusing on our relationships with family, having integrity, and sharpening your skills so we can get work when we need it.
Things not to focus on are comparing ourselves to or competing with others, following the whims and fads of the world, and letting other people's poor management sabotage our efforts to manage our lives in accordance with our principles.
These principles could include things like: empathy, courage, fortitude, loyalty, family first, and good habits.
Good habits can be things like spending time with our kids, exercising daily, going to church, doing service for others, perpetual learning like taking ongoing education, reading books, or learning a new skill for our careers every year; Preventing problems at work with employees by being the "one minute manager" and talking about improvements that need to be done and why, often, rather than waiting for things to snowball out of control.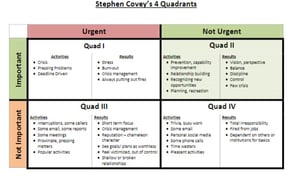 The goal is to work primarily in quadrant 2 on things that are important but not necessarily urgent, and not get sucked into unnecessary emergencies.
Covey says we should work in a proactive way, planning and implementing improvements at our companies, in our work, and for our families, not a reactionary way of putting out fires or reacting to unreasonable demands made on us by others.
First step is to be proactive, so we know 1) what to do (knowledge), 2) how to do it (skills), and 3) have the desire or want to do it.
The book points out we need to make sure to balance efforts between production and production capacity. If we work too hard and end up sick, exhausted, and in need of hospitalization, we have not benefitted by never taking breaks.
Great Quotes from Seven Habits of Highly Effective People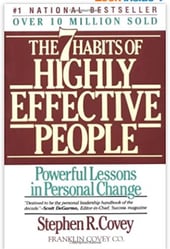 "Make sure you aren't so busy climbing the ladder, that you don't wake up one day and find your ladder was leaning against the wrong wall," wrote Stephen R Covey.
Marilyn Ferguson said, "No one can persuade another to change. Each of us guards a gate of change that can only be opened from the inside. We cannot open the gate of another, either by argument or by emotional appeal."
Thomas Paine said, "That which we obtain too easily, we esteem too lightly. It is dearness only which gives everything its value. Heaven knows how to put a proper price on it's goods."
Stephen R Covey wrote, "As you care less about what others think of you, you will care more about what others think about themselves, their worlds, and their relationship with you."
All things come into creation twice, first in the planning stage, then in the actual building stage.
What is your vision for your life? for your business? for your relationships? What are your values, your personal mission statement, your family mission statement, your company mission statement?
If you fail to plan, you will just end up in reactionary mode, but if you plan according to your values, you know what to prioritize and can do most important things first.
Another great concept of being proactive instead of reactive comes out of extreme hardship suffered by Victor Frankl.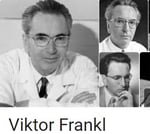 He said,"Between stimulus and response there is a space. In that space is our power to choose our response. In our response lies our growth and our freedom."
Frankl, a holocaust survivor, discovered as he was captive in horrible conditions in a Nazi internment camp, said, "Everything can be taken from a man but one thing: the last of human freedoms - to choose one's attitude in any given set of circumstances, to choose one's own way.."
Stephen R Covey wrote, "Reactive people rely on social weather, so when everyone loves them, they feel good, when people don't, they are crushed, empowering the weaknesses of others to control them. Reactive people are driven by feelings, circumstances, conditions, and the environment."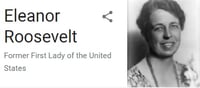 "Proactive people are driven by values, carefully thought about and selective values. Proactive people are still affected by external stimuli, whether it's physical, social, or psychological. But their response to the stimuli whether its conscious or unconscious is a value-based choice or response."
As Eleanor Roosevelt observed, "No one can hurt you without your consent."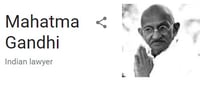 In the words of Gandhi, "No one can take our self respect if we do not give it to them. It is our willing permission, our consent to what happens to us, that hurts us far more than what happens to us in the first place".
Ghandi freed 300 million people in India from the rule of Great Britain, without violence, by increasing his circle of influence quietly with everyone in the country.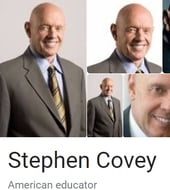 Stephen R Covey wrote, "I admit this is very hard to accept, especially if we have had years and years of explaining our misery in the name of circumstance or someone else's behavior. But until a person can say deeply and honestly, 'I am what I am today because of the choices I made yesterday,' that person can not say, 'I choose otherwise.' "
"It's not what happens to us, but our response to what happens to us that hurts us. Of course things can hurt us physically, economically, and can cause us sorrow. But our character, our basic identity does not have to be hurt at all."
"Frankl is one of many who have been able to develop personal freedom in difficult circumstances that has helped inspire others. Vietnam war prisoners provide additional testimony to developing personal freedoms and the effects of using personal responsibility to effect the prison culture and prisoners both then and now."
"We have all known individuals in very difficult circumstances, perhaps with a terminal illness or severe physical handicap who maintain magnificent emotional strength. How inspired we are by their integrity!" Nothing has a greater, longer-lasting impression upon another person than the awareness that someone has transcended suffering, has transcended circumstance, and is embodying and expressing a value that inspires, ennobles, and lifts life."
Seven Habits for Highly Effective Teens
One summer, I unusually took a full-time job last-minute, because I had taken a lot of time off during that school year to help my mom when her husband died in a car crash.
We were signing the kids up late for summer school, and many classes were full. The kids weren't even sure they wanted to take "Seven Habits for Highly Effective Teens." It turned out to be both of their favorite class.
Kaden really dug dissecting pig brains in anatomy too, like the true science geek that he is.
I have definitely benefited by reading Seven Habits of Highly Effective People again and can't wait to finish it. I plan to read the The Road Less Traveled again next week also.
Hope you are finding ways to have fun this Summer, we're doing our best to find ways to have fun during Covid too.
__________________________________________
Laurie is Principal at BayAreaInbound.com, an online marketing agency specializing in quickly increasing revenue for tech companies.
For a free evaluation and recommendations on ways to improve your online marketing, click the button below.